Yakatabune Experience
Tour Information
Tour Period: Year-Round
Tour Start Point: Your Hotel
Tour Finishing Point:  Shin Toyosu Pier
Tour Price: Contact us for pricing details!
General Tour Itinerary:
11:30/12:45 — Embark from Shin Toyosu Pier
12:00/13:15 — Odaiba from the sea

12:30/1:45 — Return to Shin Toyosu Pier
** Please note that hotel pickup and drop-off are available upon request. We are happy to help accommodate any assistance in regards to your journey to or from the Shin Toyosu Pier. Private minibus transportation is also available upon request.
** Also note that the Yakatabune Boat Tour can be combined with many of our other available tours, so please free to combine this activity with others for your trip. We will then advise on the recommended schedule for the various events!
** Have any other questions? Please feel free to contact us directly by email or by phone. We would be happy to help cater this trip to meet your specific needs!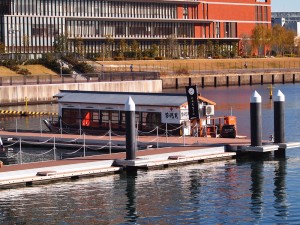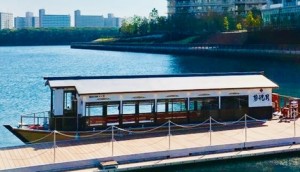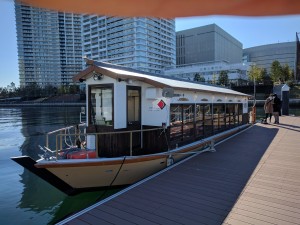 Features
Come on a traditional Japanese Yakatabune boat ride!
This tour uses a traditional Japanese houseboat called a Yakatabune, which has been used for sightseeing for a very long time in Japan. In preparation for the upcoming Tokyo Olympics, various buildings in Tokyo are undergoing many renovations. While guests on this special boat cruise will be able to relax with nature on the sea, they will also be able to see the wide range of changes that are currently taking place throughout Tokyo.
Our boats have a unique interior design that portrays a modern Japanese style. This attractive design includes audience seats that are closer to the surface of the water than any other type of ships. Additionally, the inside of the ship is quiet, allowing guests to converse naturally and record videos in an undisturbed fashion. Although it is a new ship, our wonderful captain is fluent in English and very well informed about Tokyo Bay. This is one of our most popular tourist attractions for foreign travelers intent on experiencing Tokyo in an authentic and unique way.
Our itinerary takes you along Tokyo Bay, with incredible glimpses of Tokyo Tower and Tokyo Sky Tree. Additionally, the bridge over Tokyo Bay, known as the "Rainbow Bridge", is also a great photo spot, especially as we cruise directly underneath it! There is certainly no shortage of great photo and video opportunities on our voyage.
The sights on this tour are just the beginning. Various options are available for your cruise, including the chance to wear beautiful Japanese kimonos. We also offer cotton candy machines for our guests – these are indispensable for Japanese festivals that take place on board. Ask any Japanese person about this inclusion, and they will certainly say it is a must! Guests will be able to make their own cotton candy to enjoy on this trip.
There are other additional options that visitors are able to choose from, including an English-speaking guide and even a catered lunch. We have also prepared Halal options for our Muslim guests.
Book your cruise with us today!
A message from Captain Tanaka of the SS Yumemizuki:
I would like to invite everyone to experience a cruise on the traditional boat "Yakatabune" in Japan. Our course centers around Odaiba, Rainbow Bridge, Tokyo Tower and Sky Tree, so you're definitely in for a treat!
As everyone knows, Tokyo will host the Olympics Games in 2020, and as a result, Tokyo is undergoing rapid transformation in order to construct new facilities for visitors. This is just another way for us to showcase this wonderful city.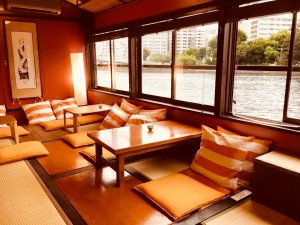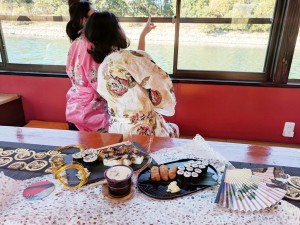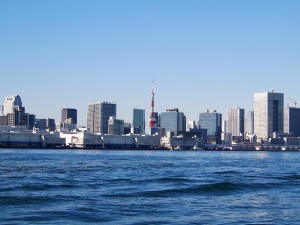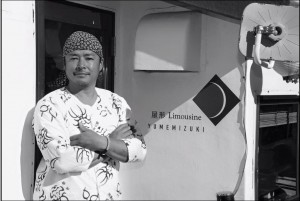 The Tour Includes
Current Period: December 2017 – February 2018
Wednesdays, Thursdays, and Fridays (excluding holidays)
(1) 11:30 – 12:30
(2) 12:45 – 13:45
** Please note that there are only two available times per day
Reservation Deadline: Please be sure to contact us at least one week before your planned departure in order to ensure availability. The deadline for the following options is also due at the time of application.
Available on-board options at your request (extra charge):
English-speaking Private Guide

Seafood Lunch Box/Tea Set

Halal snacks
Limousine-like Boat Cabin, the Characteristics of our "Yumemizuki"
Very quiet and relaxing, our ship allows guests to talk and take videos without an abundance of ambient noise often experienced on other cruises. This is because the engine of the ship is not under the floor of the room, but behind the hull of our ship. You may even suspect there isn't an engine at all!
This ship has a high ceiling that allows guests to feel measurably more free compared to other similar houseboats. Our big windows give guests the chance to see more throughout the journey, including into the water below. Elegant paintings of swimming Japanese carp decorate the walls of the ship, and an authentic tokonoma, a Japanese alcove where ornaments are placed, gives the experience another layer of immersion. Lights, tables, cushions, and other aspects of Japanese interior design are prevalent throughout the ship. Visitors will need to take off their shoes before entering, as our floors are made out of tatami mat, the highlight of any Japanese room. Attention is given to even the smallest of details, all the way down to the dishes, cups and other utensils.
We have made some changes to the traditional houseboat by giving a modern Japanese style to the roof, the walls, and the furniture. This ship's design allows guests to come in close contact with water surface, presenting the sea's waves right in front of you. Please enjoy the high-rise buildings that appear on the surface of the water and the ocean from our windows.
Western-style bathroom
Space for baby stroller
Free Wi-Fi
Air conditioning
Cotton candy machine
Prayer rugs and compasses are available on the ship for our Muslim guests